Ingredients:
2/3 cup extra virgin olive oil
1/2 cup beef broth
1/2 cup lemon juice
2 garlic cloves, minced
2 tsp curry powder
2 tsp salt
4 bay leaves
16 whole peppercorns (I subbed 2 tsp ground black pepper)
2 lbs. beef tenderloin, cut into 1 1/4 inch cubes
2 large green peppers, cut into 1 1/2 inch pieces
3 medium tomatoes, cut into wedges
3 medium onions, cut into wedges
Directions:
Combine olive oil, beef broth, lemon juice, garlic, curry powder, salt, bay leaves, and peppercorns to create marinade for beef cubes. Reserve 2/3 cup for basting, and refrigerate.
Add beef cubes to main marinade mix in a covered dish or resealable bag. Turn to ensure beef is fully coated. Cover and refrigerate for 8 hours or overnight.
Prior to assembling kabobs, drain and discard marinade from beef cubes. Prepare kabobs on metal or soaked wooden skewers by alternating beef cubes, tomatoes, green peppers, and onions.
Grill or broil on high heat 3 minutes on each side. Baste with reserved marinade.
Continue cooking on high heat, turning and basting for 10-12 minutes - or until meat reaches desired doneness. (medium = 160 degrees F, well-done = 175 degrees F)
Hint: I think this may be my favorite new recipe - even me, the non beef fan...loved this dish! (Although, I am equally sure that it would be great using chicken too!) As it turns out, our propane for our grill ran out as we getting ready to put these on the grill - so we used the broiler in our kitchen oven to cook these delicious kabobs. The only complaint from my kids, why did I make more... I hope your family enjoys them as much as we did!!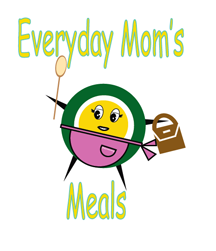 This recipe is being shared at
Everyday Mom's Meals
for
Church Supper #35
. If you haven't stopped by to check at a Church Supper - please do! This is a great exchange of wonderful recipes!!